The "Ugly Betty" star is the latest closet celebrity smoker to be exposed after she was spotted puffing away on American Spirits this weekend in Beverly Hills alongside her 1-year-old daughter, Valentina.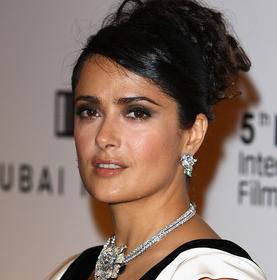 Cameras caught the celebrity secret smoker outside Neiman Marcus as she lit up while her mom and tiny tot waited.
Salma Hayek revealed last year that she got hooked on cigarettes while filming "Frida" and subsequently quit last April.
The actress said: "It's the s***iest vice you could possibly pick. I've tried to quit before. But this time I'm done with it. I've changed."
But the 42-year-old isn't the only star who tries to keep her nicotine addiction under wraps for fear of a negative fan reaction.
"Desperate Housewives" star Eva Longoria Parker was desperate to keep her habit a secret after she was caught in the act while vacationing in Puerto Rico earlier this month.
A source revealed: "She hates to be photographed smoking. But we get her once in a while."
Teen idol (and frequent smoker) "The Hills" star Lauren Conrad never appears on her hit reality show with a cigarette – and goes to great lengths to abstain from puffing in public.
The source said: "She avoids it."
Onetime closet smoker Britney Spears now openly flaunts her Marlboro Lights, while Anne Hathaway just admitted she was a smoker for years before she quit this summer.
And new mom Ashlee Simpson-Wentz was a top-secret smoker who went to great lengths to hide her habit before she became pregnant, even ducking behind a pal when one reporter caught her in the act last year.
Comments
comments