Making their union official in a private wedding ceremony in Paris in February 2009, Salma Hayek and Francois-Henri Pinault reportedly will host a lavish wedding party later this month.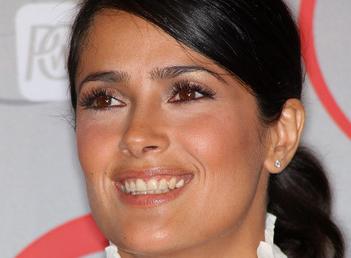 Quietly tying the knot with fiance Francois-Henri Pinault in a small and hush-hush ceremony in Paris on Valentine's Day, Salma Hayek reportedly will host a lavish wedding at the end of this month. "At last, Salma is throwing the wedding party of her wildest dreams, and she's thrilled to death," an insider tells Radar Online, which is the first to report news of the actress' planned wedding. "Francois is sparing no expense. Everything will be top flight and lavish," adds the insider.
"The final wedding bill will likely top $2 million," the insider gushes. "They're flying in friends on private jets from all over the world." Desperate to make their wedding celebration special, Salma and Francois are said to have offered all-expense paid invitation to famous friends. Salma's celeb friends, including Penelope Cruz, Javier Bardem, Ashley Judd, Tina Fey, Alec Baldwin, as well as Rose McGowan and her film director boyfriend Robert Rodriguez, are among those to be invited to the affair.
All guests will be treated to "hundreds of cases of the world's finest wines and champagnes, Four Star Gourmet food," the insider goes on revealing. "The party will be decorated with roomfuls of bouquets of red and white roses. And this won't be a typical wedding celebration — The event will kick off April 24th and go straight through the whole weekend."
"Extravagant doesn't begin to describe what Salma is cooking up," the insider continues informing Radar Online. "In Salma's eyes, this marriage is for keeps. She swears this will be her first and last wedding so she wants to make memories to last a lifetime."
Salma Hayek and Francois-Henri Pinault announced their engagement in March 2007 after months of dating following their first meeting in Venice, Italy in May 2006. In September the same year, their daughter Valentina Paloma Pinault was born. In 2008, the pair briefly ended their engagement. Shortly thereafter they rekindled their romance and wed in the City Hall of the Sixth Arrondissement in central Paris on February 14, 2009.
Comments
comments