Britney Spears may have her parents back in her life, but they face a struggle against her close confidant.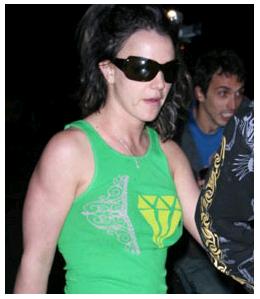 A scantily clad Britney roamed around LA on Tuesday, presumably to escape the escalating war between manager Sam Lutfi and boyfriend Adnan Ghalib, which you could see here.
Her manager, Sam Lutfi, has lawsuits against him for harassing behavior, it was reported today. He was issued with a restraining order involving an old friend last year after he reportedly sent nude photos of him to his family and encouraged him to commit suicide.
According to friends of Sam Lutfi, he boasts that he "controls 99 per cent of [Britney Spears's] life". On Monday the singer, 26, jumped out of Sam Lufti's car after a screaming row and sat weeping on the kerb outside her Hollywood home.
During a row over paparazzi beau Adnan Ghalib, being refused entry to her house. Britney Spears then sent for her parents, James and Lynn, who flew immediately from Louisiana.
Sam Lutfi said Britney Spears's parents "barged in," saying, "They have an agenda. Their agenda is jealousy because they don't fit in. I do. They see her three times a year."
Sam Lutfi then asked the singer, who was nearby as he spoke on the phone: "Did I force you to buy a car?" She replied: "No." He asked: "Do I ever bug you?" to which she replied: "We argue."
Last night Spears was alone, driving her new Mercedes in Hollywood before having to ask photographers the way home.
The new revelations about Lutfi follow days of high drama for the tormented singer, even by her standards.
Meanwhile, Adnan Ghalib was part of a group of 12 men who enrolled on the website S*xHealthReview.com to try out the numerous libido enhancement products available over the internet, according to a report
S*xHealthReview.com strives to bring "the most up-to-date and accurate information for men that are interested in improving their sexual health" through "unbiased reviews for the pills, programs and other various products."
The British paprazzi is listed as 'Adnan G' on the site along with others members of the test panel and can be identified with his photo and trademark facial foliage. He introduces himself as follows: "I work in "the" industry in Los Angeles and I know many of my friends use these products. Thought this would be an interesting opportunity to reveal the truth to many men worldwide."
Comments
comments