Scarlett Johansson proved why she's one of the world's hottest women as she graced the cover of Uk's Cosmopolitan for its January 2009 issue.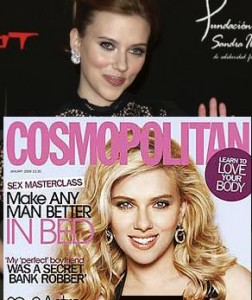 The US actress, who made an appearance at the Nobel Comittee Banquet in Oslo this week, made a sultry pose in a bust-enhancing black dress for the sexy shoot.
Scarlett has been doing the rounds recently to promote her new movie "The Spirit", which is released on New Year's Day. The film is an adaptation of the comic series of the same name.
The actress broke her silence about wedding Ryan Reynolds. The usually fiercely private actress, 24, calls married life "a very beautiful time for me, saying: "This is a very beautiful time for me. Getting married is a huge moment in anyone's life, and the few months leading up to it were a little crazy."
She continued: "But Ryan and I are in love, and we're enjoying evolving our relationship together. I feel that my life and my work are heading in the right direction."
She said that she'd even "love to" spend more time in Canada, saying that it's "such a beautiful country and the people are so friendly. I might get through immigration faster now, too!"
She added: "The most romantic love is seeing people who've been together, or who've known each other, for a long time – like two best friends, or a husband and wife who've been together for 50 years, and are still so excited to see that person come home. It might be rare but that's the most romantic kind of love."
Comments
comments