Scarlett Johansson, who was previously expressed her support to the presidential candidate Sen. Obama, hit the headlines with her debut album, two provocative new movies, and an engagement all happening at once. She talked about why timing is the key to making a relationship work, and much more.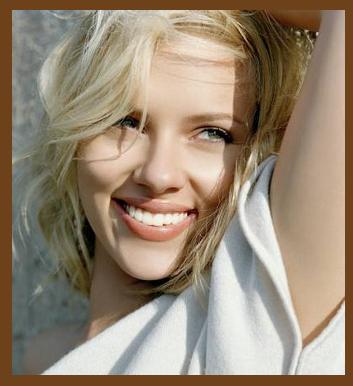 The stunning actress, who is about to share the secret of her much-touted sensual power, revealed, "It's kind of like this," before proceeding to demonstrate the perfect come-hither gaze.
She purses her famously pouty lips, drops her chin, and lifts her eyes coyly. But she can only hold the look for about five seconds before dissolving into a fit of laughter.
It seems the actress would not take the sexiness too seriously, the actress explained: "I don't normally think about being sexy. I think, Do I look presentable? Do I look sane?"
As if to make the point, she's shown up to her Cosmo — Cosmo! — interview wearing glasses, an oversize button-down, and flats, her hair swept up into a demure ponytail.
But the truth is, even dressed like a schoolteacher, Scarlett Johansson has an innate and magnetic sensuality. That quality is on display in this month's Woody Allen comedy, Vicky Cristina Barcelona, in which she plays a sexually adventurous American tourist (critics have buzzed about the film, often mentioning her onscreen lip-lock with Penélope Cruz).
In May, she released her first album, "Anywhere I Lay My Head", a compilation of Tom Waits cover tunes that showcases her sultry voice. Next up, Scarlett takes on the role of a woman confused about love in a romantic comedy based on the bestselling book "He's Just Not That Into You", hitting theaters this October.
Want more? Pick up the August 2008 issue of Cosmo, on stands now! You can also view Scarlett's Star Style Evolution to see how her look has changed over the years.
Comments
comments