Chelsy Davy faced the world recently following her split from Prince Harry she put on a brave face.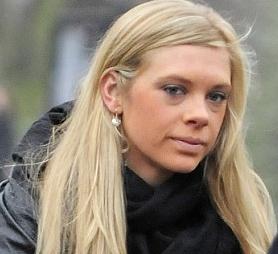 She had also applied a deep layer of fake tan – possibly to perk up her complexion following several nights of soul-searching over the collapse of her five-year romance.
The 23-year-old student, whose split from Harry was confirmed at the weekend, smiled for the cameras after leaving her student house in Leeds to walk to class with a group of friends shortly after 9.30am.
Dressed in skintight jeans, tasselled black boots and a leather bomber jacket, she actually looked as if she was going for a night out on the town rather than a day studying law at the city's university.
Her message seemed clear: Life after Harry goes on. The couple split following his decision to throw himself into his new career, training to be an Army Air Corps helicopter pilot.
Royal sources say the parting was amicable and the pair will remain friends.
Prince Harry has admitted he is 'gutted' about his split from Chelsy, but insists that his career 'has to come first'.
Harry, 24, says the end of the relationship was 'mutual and amicable' but was 'absolutely the right thing to do'.
Friends have revealed that they would not rule out a reconciliation in the future but say they think this is extremely unlikely at the moment.
A pal revealed: "The truth of the matter is that while they love each other to bits, Harry and Chelsy have been pulling in opposite directions for some time. Harry knows he needs to knuckle down with his career with the military while Chelsy is taking her finals this year and wants to forge ahead with hers. They have rowed and split up before but this time it appears to be permanent."
Friends have said that while Harry was clear that his career had to come first, Chelsy had also been 'extremely vocal' about the problems in their relationship.
A source added: "They both realised that they had reached an impasse and that things had run their course."
Comments
comments