Sophie Anderton was exposed as a drug-pushing prostitute who charges £10,000 a night for her services.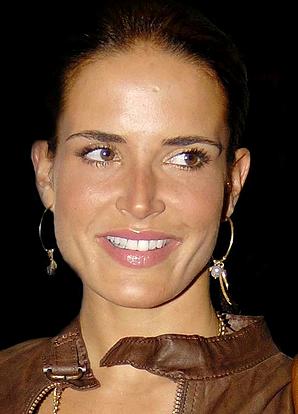 The former "I'm A Celebrity" star was revealed at the weekend that she offered sex for money to an undercover reporter on the News of the World.
The shamed model, who made her name modelling Gossard bras, was secretly filmed stripping to a G-string and stilettos.
In the video, she boasted, "I'm great at sex. I'll look great on your f***ing arm. I'm a super-model." She also asked if he wanted cocaine – and snorted lines in front of him. Then she arranged for two grams to be delivered, boasting of her supply's quality.
In a desperate bid to sell her body, she hit out at cocaine-shame model Kate Moss, saying she was "about to screw up again". She hinted she would do a threesome with a female pal for more cash. And she boasted of her friendship with Prince Andrew.
After the exposé, Sophie Anderton has been axed from her £100,000-a-year job as the face of a tanning firm Fake Bake. You could see her controversial video and pictures here.
A spokeswoman revealed, "We've been forced to terminate Sophie's contract. Fake Bake does not condone drug taking in any form."
The 30-year-old model had been working for Fake Bake since 2005.
Comments
comments