Lindsay Lohan dressed in a sequined multicolor Catherine Malandrino minidress partied with BFF Samantha Ronson at Sephora 10th Anniversary celebrations at the Angel Orensanz Foundation in New York City on Thursday, July 17.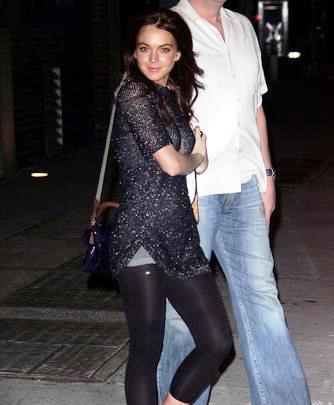 She looked lean in her deep scoop neckline dress with spaghetti straps. Lindsay accessorized with black Mary Jane heels and a black fedora hat matching gal pal Samantha's style.
She showed a little extra tan but her facial skin looks healthier. Overall she carried her look with confidence.
Lindsay Lohan was accompanied by her mother Dina and brother Michael to the event which was deejayed by Samantha.
After the party, the seemingly inseparable Lindsay and Samantha went to the Bowery Hotel in Lower Eastside and hung out there.
Lindsay's lawyer, Blair Berk, recently reported her compliance to DUI probation requirement to a Beverly Hills judge. She has completed her community service and paid a visit to the morgue.
The judge was satisfied with the report. The next progress report is set for January, 2009.
On August 23, 2007, Lindsay Lohan was sentenced to a day in jail, 10 days community service and a maximum of three years probation, after she pleaded guilty to two DUI offences committed in May and July 2007.
Comments
comments