What's on Suri's wish list this Christmas? Tom Cruise, who is the father of the adorable child, gave hints that Suri is going to get doll and stuffed animals for Christmas.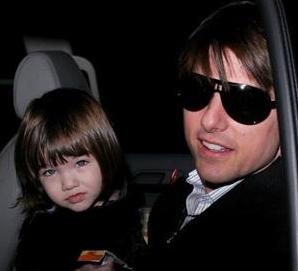 The proud father said of Suri: "You know, she likes to color. She likes dolls, stuffed animals. She's really easy about stuff like that."
And what about for his adopted kids Bella, 16, and Connor, 13, with Nicole Kidman?
He replied: "A cool pair of sneakers, different books that they like. They're kind of like, 'Look, it's been a busy year and we're just looking forward to some quiet time, just hangin' out.'"
Perhaps the Hollywood actor is not planning of slowing down with his career any time soon.
His World War II thriller Valkyrie hits theaters on Christmas, and he revealed to Jay Leno on The Tonight Show Thursday that he'd like to act on Broadway.
He declared: "Yeah, you know I like making movies, but I'm not saying no to broadway. I'd like to do a musical."
"Do you sing?" Leno asked, as Cruise admitted he does "a little Elvis" and launched into "Blue Suede Shoes."
Comments
comments