Taylor Swift, who is doing mighty fine without Joe Jonas, kicked David Archuleta—and all other comers—to the curb as her new album "Fearless" debuted at No. 1.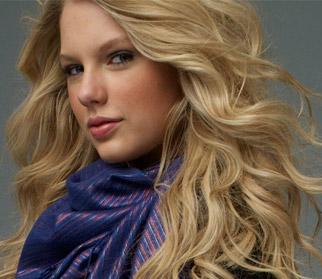 The country singer sold more copies (592,000) than any other country act since the Eagles' Long Road Out of Eden opened with 711,000 in sales a year ago, and more than tripled the sales of David Archuleta's eponymous debut.
Taylor Swift was also the top digital seller with 129,000 album downloads. That's the fourth highest tally since Nielsen SoundScan began tracking digital sales four years ago.
Taylor Swift is currently tied with, ironically enough, the Jonas Brothers for the most top 20 debuts on the singles chart this year, with five. But her new track, "White Horse," racked up 124,000 digital downloads last week, meaning she should pass her ex's band when the Hot 100 is released tomorrow.
Finally, the hype over Fearless helped boost Taylor's self-titled debut five spots to No. 21 in its 108th week. The album has already tallied more than 3.5 million.
Though he had to settle for runner-up yet again, American Idol's Archuleta still made a solid first-week showing, with his album selling 183,000 copies at No. 2.
The two Davids, Archuleta and season-seven victor Cook, originally considered a head-to-head matchup on this week's chart, but the two Idol stars are instead releasing their new albums in consecutive weeks; expect to see Cook's self-titled disc set be among the contenders for No. 1 next week.
Elsewhere, Now That's What I Call Music! 29 debuted at No. 3 (172,000 copies), while guest-appearance king T-Pain opened at No. 4 with Thre33 Rings (168,000). Last week's chart topper, the Twilight soundtrack, fell to No. 5 (107,000).
Showing that record retailers already have stocking stuffers on their minds, Enya's holiday album And Winter Came opened at No. 8 (92,000), while the Christina Aguilera hits package Keeps Gettin' Better checked in at No. 9 (73,000).
Just missing the top 10 was Seal's Soul (No. 13, 45,000), which easily outsold 2007's System—that only managed a No. 35 start.
Other notable debuts included The Best of Now That's What I Call Music! 10th Anniversary (No, 32), Hit Man: David Foster & Friends (No. 46), Tracy Chapman's Our Bright Future (No. 57) and Enrique Iglesias' English-language Greatest Hits (No. 80).
In a good week for Idol finalists, Daughtry's self-titled debut celebrated its two-year anniversary on the charts at No. 107. The album has moved more than 4.2 million copies.
Thanks largely to Swift, total album sales were up 27 percent over last week, but still down 24 percent relative to the same week in '07, when Alicia Keys' As I Am ruled.
Here's a recap of the top 10, per Nielsen SoundScan:
• Fearless, Taylor Swift • David Archuleta, David Archuleta • Now That's What I Call Music! 29, various • Thr33 Rings, T-Pain • Twilight soundtrack, various • Black Ice, AC/DC • High School Musical 3: Senior Year soundtrack, various • And Winter Came, Enya • Keeps Gettin' Better, Christina Aguilera • Paper Trail, T.I.
Comments
comments