Taylor Swift may be thin, but the pop-country star said she is still concerned about her 19-year-old figure as she graced the cover of the April issue of Allure magazine.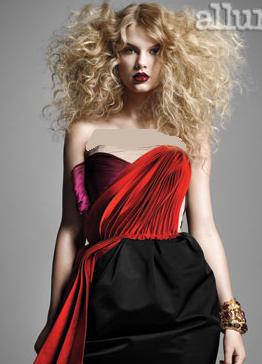 She revealed: "Basically, if I'm indulging too much and not exercising enough, I can feel that. I can feel a change before I see it. For me, working out is not so I can stay skinny. It's so that I can keep up my endurance so I'm not panting on stage. Heavy breathing is the worst when you're in concert. You don't want to see that, if you're going to see a show."
While Taylor is concerned about her body, she wants others to not be concerned with it. Or rather, in particular, her bare physique.
On keeping her private life private: "It's fine to talk about love publicly. But I think when you talk about virginity and sex publicly, people just automatically picture you [email protected] And as much as I can prevent people picturing me [email protected], I'm going to."
As for love, the singer who is currently promoting her 2008 studio album "Fearless," said she thinks about love a lot. And even when break ups come — she and Joe Jonas broke up last year when he allegedly dumped her via voicemail — Taylor said she appreciates being able to channel her feelings into her music.
She explained: "I'm the kind of person who needs everything to be justified and needs all of her time to be worth the energy. So, let's say I date a guy who really does nothing but damage me. And you've spent time, you've spent effort, and you've put everything into trying to make that work. And it didn't. So you write a song about it. It was worth everything, if you write a song about it."
While things haven't always gone perfect in her love life, Taylor said she still dreams of the storybook romance.
On fairytales: "I have always been fascinated with fairy tales… and the idea that Prince Charming is just one castle away. And you're gonna run across a field and meet each other in the middle, and have an amazing, perfect movie kiss. And it's all gonna be happily ever after."
On writing breakup tunes: "For some reason, I could never, ever stop writing songs about heartbreak. Just because as human beings, what we can't have is what we replay in our head over and over again before we go to sleep."
Grab a copy of this issue of Allure to read the rest of the interview.
Comments
comments