Angelina Jolie's visit to a refugee camp in Thailand has sparked a controversy with their government, which says the actress shouldn't have been commenting on the Rohingya "boat people" refugees, according to the report.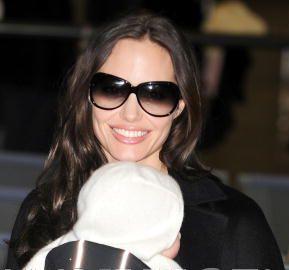 During her time there as the UNHCR's goodwill ambassador, the UN's refugee agency, Angelina said she hoped the government would be "just as generous to the Rohingya refugees who are now arriving on its shores."
The comment was in reference to alleged abuse by Thailand's military, which has recently been accused of detaining and abusing the Rohingya from Myanmar, before sending them back out to sea. The Thai government maintains that they are economic refugees and should not be offered protection. The foreign ministry also says Angelina and her partner Brad Pitt shouldn't have been allowed to visit the camp.
"The Thai government will issue a reprimand letter to UNHCR asking why it allowed Angelina Jolie to visit the refugee camps," Virasakdi Futrakul, permanent secretary of the Thai foreign ministry told reporters.
However Kitty McKinsey, an UNHCR spokeswoman, told AFP that the couple had passes issued by the Ministry of Interior, and said the visit was arranged with the cooperation of the foreign ministry.
Comments
comments