Emma Watson, who was bemoaning her inability to find a boyfriend, feared her feisty portrayal of Hermione Granger in the Harry Potter films might have intimidated potential suitors.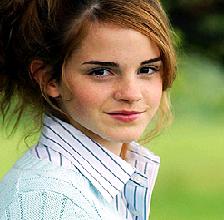 But last week, her fears seemed unproven as she enjoyed the French Riviera under the spell of a rugby player Tom Ducker.
The teenagers were spotted hanging out in nightclubs and eating lobster with £90 bottles of champagne in an expensive seafront restaurant.
Staff at their hotel, Chateau de la Chevre d'Or in Eze, near Nice, described Emma Watson and Tom Ducker as 'delightful guests'.
While sipping Veuve Clicquot in the Castel Plage restaurant on the famous Promenade des Anglais near Nice's old town, the "Harry Potter" actress was taken by some artwork and offered the owner cash for it.
Ali Abdelhafidh, the owner, revealed, "Emma fell in love with it and offered to buy it there and then. The words on the piece seemed to sum up her evening. But sadly it just wasn't for sale, so she posed for a photo next to the picture instead."
The owner added, "They arrived quietly at about 7.30pm and drank champagne and ate lobsters all night. They were clearly loving each other's company and said they were in a very romantic place, with the Mediterranean just in front of them and great music. They said they were having a wonderful holiday and did not leave until well after 2am. It was great to see a young couple so much in love but Emma had time for everyone else, too. A lot of celebrities come here, including Elton John and Bono, but having Emma here was something special. She's a real star in every sense of the word."
A fellow diner revealed, "They were knocking back the champagne and didn't stop laughing and joking. Emma was acting like a beautifully mannered young woman. Castel Plage is very sophisticated and the two of them looked in their element."
Although there is a speculation that there is something more between Emma Watson and Tom Ducker, Tom's father John, 50, revealed, "They are just friends – don't read anything more into it than that. My wife and I have met Emma once or twice. She is a lovely young lady."
Emma met Tom, who has signed for Wasps, in Oxford where she lives. Like her, he is an academic high-flier, scoring near-perfect grades in his GCSEs last year.
Although Emma's parents have set up a trust fund to bank her riches until she is 21, she receives a monthly allowance believed to be well into four figures.
The teenagers told staff at Castel Plage that they would also be sampling the nightlife in nearby Cannes and St Tropez, before heading east to the Italian Riviera.
Emma, who was born in Paris and speaks good French, said she was "having a wonderful time" and glad to be away from the "Harry Potter madness back home".
Meanwhile, negotiations are under way to secure Emma, Daniel, and Rupert Grint, who plays Ron Weasley, in their roles for the final two installments of the blockbuster series.
Comments
comments