Lindsay Lohan looks all temptress sex vixen in these pictures as she sparkles in front of the camera wearing blinging jewelery and over-the-knee boots.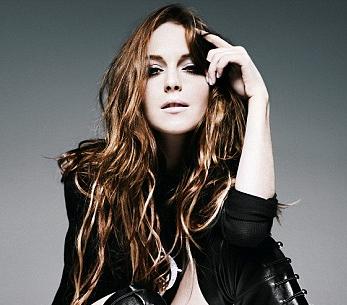 But this is the photo shoot where thieves stole £24,000 of Dior diamond jewelery including earrings and a necklace.
The actress, 23, is wearing the bracelets and rings that they did not make away with.
Despite the theft, the "Mean Girls" star still managed to shine in the photos wearing tiny hot pants and a figure-hugging bodice.
Police are still investigating the jewelery theft from the studio in Islington, north London in June.
A police spokesman said there have been no arrests and Elle magazine, which arranged the shoot, said they did not believe the actress was 'in any way responsible'.
Lindsay, who has dyed her hair peroxide blonde since the shoot, is rumoured to be ready to film Robert Rodriguez's new film Machete, which is about to start shooting.
He dropped huge hints to MTV.com, saying: "We're casting right now, and the script just came out great. There are a lot of people we're sending it to, big names – but nobody that we've signed yet."
He added: "Lindsay's cool. There's actually a cool part in the movie for her – if she takes it."
She told followers on Twitter the hair color change was for a film role.
Replying to one fan who told her "I miss your red hair – but you look beautiful as always", she tweeted back: "it's for a movie I miss it too… I begged (not to have it dyed). LOL."
Comments
comments