Tiger Woods became a guest on Jimmy Fallon's NBC "Late Night" show last night.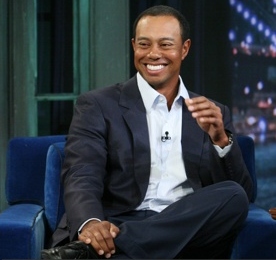 It has been a year and a half since the controversial golfer has been on the show so he was asked what he had been up to. The golfer replied nothing and he was playing bad golf.
Jimmy Fallon thanked him for the courage of coming on a late-night comedy program because it must have been painful that you went through. I mean, balls, shafts, holes, foursomes.
Comments
comments