Barack Obama is getting praise from Nashville, courtesy of one big, patriotic country star.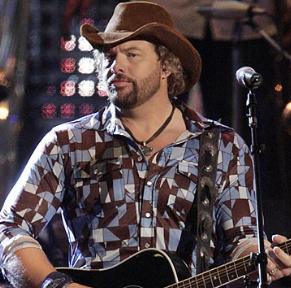 Toby Keith, who is known to non-country audiences for his post-Sept. 11 song "Courtesy of the Red, White and Blue," admitted that he's a Democrat, and was impressed by the senator from Illinois.
Toby Keith has said in the past that the 2002 song, which included lines aimed at the Taliban like "we lit up your world like the Fourth of July," was more patriotic than pro-war.
When asked while promoting his new movie "Beer For My Horses" about the role of patriotism in the current presidential election, Toby Keith replied: "There's a big part of America that really believes that there is a war on terrorism, and that we need to finish up.
The country singer continued: "So I thought it was beautiful the other day when Obama went to Afghanistan and got educated about Afghanistan and Iraq. He came back and said some really nice things.
He added: "So as far as leadership and patriotism goes, I think it's really important that those things have to take place. And I think he's the best Democratic candidate we've had since Bill Clinton. And that's coming from a Democrat."
Comments
comments