The Cruise family is down under at the moment, and Sunday Tom, Katie and Suri went to the stage production of 'Jersey Boy' in Melbourne, Australia.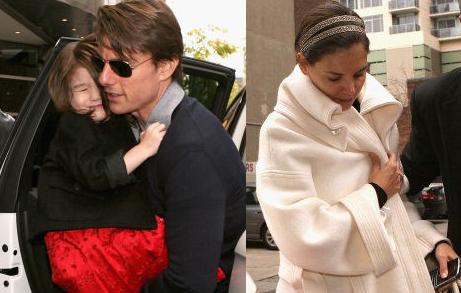 Bundled against the Australian winter, Tom carried a camera shy Suri to and from the car. According to a local paper, the Cruises are in Melbourne as guests of James Packer. The paper also reports Suri was well-behaved throughout the play.
Meanwhile, Tom Cruise celebrated his 47th birthday with a sports game – in his ex-wife Nicole Kidman's native country Australia.
The actor swapped a Hollywood birthday bash in favor of some quality time with his third wife Katie Holmes and daughter Suri Down Under as he turned 47 on Friday (03Jul09).
Cruise caught an Afl match – Aussie rules football – from a private box before heading off for a quiet family meal in Melbourne.
The star became a huge fan of the game when he split his time between America and Australia during his ten-year marriage to Kidman.
And it looks as though Cruise will be spending a lot more time in his ex-wife's country – current partner Holmes is filming her next movie, Don't Be Afraid of the Dark, in Melbourne.
Comments
comments