Before heading home for the fireworks, cute couple Zac Efron and Vanessa Hudgens have an early dinner at Panera Bread restaurant on Saturday (July 4th) in Studio City, California.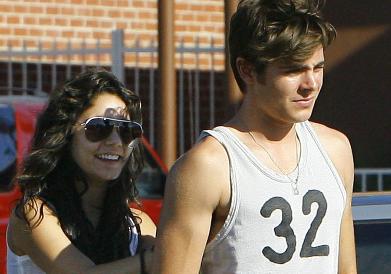 Zac made headlines last week after finally cutting his hair. He has cut off his trademark locks in a bid to land more serious acting roles.
Vanessa will soon be promoting her new film, Bandslam, out August 14.
Meanwhile, Disney has begun a hunt to discover the "British Zac Efron" as the company plans to produce British shows like High School Musical and Hannah Montana.
Jonathan Bosely, vice president of programming, Disney UK and Ireland, said that he is seeking UK-produced formats for the new Disney XD channel, including entertainment series focused on music and sports.
He said: "We want formats that enable us to break new kid talent. We want to find the next Zac Efron in the UK and we think we can. It's about empowering kids and kids want to sing, they want to dance they want to perform… We're looking for formats that obviously work in the UK but can also work around Europe and globally."
Comments
comments