Tom Cruise and Katie Holmes stepped out for the annual White House Correspondents' Association dinner on Saturday night.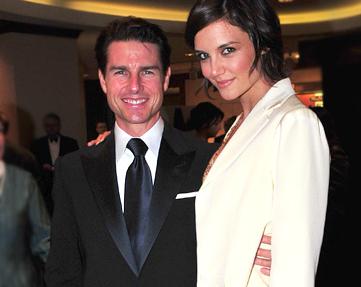 The world's top designers fall over themselves to offer her their clothes to wear, but for dinner at the White House last night Katie Holmes chose to go it alone.
The 29-year-old chose to wear her own designs for the prestigious event – an ivory maxi-dress and mannish jacket selected from her Holmes-Yang collection, which has received mixed reviews from fashion critics.
However, alongside the vibrant shocking pink of host Michelle Obama, Katie's designs seemed overly frumpy, swamping her petite figure.
In addition to Tom and Katie, top celebrities to attend the dinner included: Steven Spielberg, George Lucas, Demi Moore, Ashton Kutcher, Samuel L. Jackson, Sting and more.
Star attraction President Obama took aim at his critics and the republicans in his speech and joked that former Vice President Dick Cheney could not make the dinner because he is writing his memoir, 'How to shoot friends and interrogate people,' in reference to Cheney's support of harsh interrogation and his accidental shooting of a hunting companion.
Obama also took playful digs at his frequent use of a teleprompter and Vice President Joe Biden's knack for speaking off the cuff.
His own administration, which has been in power for just over 100 days, was also in line for the president's playful wit. "I believe my next hundred days will be so successful that I will be able to complete them in 72 days,' he said to a roar of laughter. 'And on my 73rd day, I will rest."
On a more serious note Obama talked of the financially struggling media industry and praised journalists for holding government officials accountable.
The White House Correspondents Association was formed in 1914 as a liaison between the press and the president. Every president since Calvin Coolidge has attended the dinner.
The association will donate more than $23,000 to the charity So Others Might Eat, including money raised by skipping formal dessert for guests.
Comments
comments