Tom Cruise says the Nazis "had great uniforms"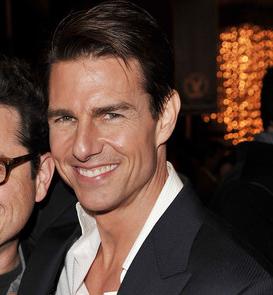 The Hollywood actor plays Colonel Claus von Stauffenberg, a Nazi who led an internal plot to assassinate Hitler during World War two, in his latest film 'Valkyrie'.
While he says Nazi uniforms were well designed, he also found they encouraged strong feelings in him.
Tom, 46, revealed: "I have to tell you, they had great uniforms, great designs. But there was a perversion with those things. They took symbols that were good and they inverted the aesthetics. My immediate response was, 'I hate this uniform.' But I had to get used to seeing myself wearing it, although it was disturbing to look at the world from that perspective."
For his role in the film, Tom also had to wear an eye patch and hide his hand to emulate injuries sustained by Stauffenberg in an air attack.
He adds that his uniform raised eyebrows when he first wore it, at a read-through of the script in Metro Goldwyn Mayer's Los Angeles offices.
He added: "There I was, dressed in full German officer's uniform, walking out of the conference room and down the corridors to get to the bathroom. It was surreal. I could see the guys in the offices looking at me and wondering what the hell was going on."
"Valkyrie" is released in European cinemas throughout January and February.
Comments
comments