Tom Cruise has been working on his Valentine's Day plans for wife Katie Holmes for quite some time.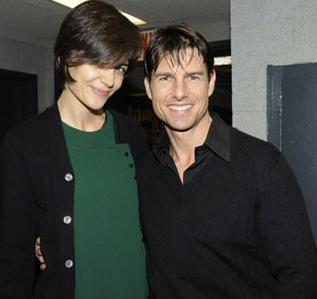 The star hinted at the London premiere of Valkyrie — more than three weeks before the holiday — that he already had something sweet in store.
He declared: "I've got surprises!"
But he remained tight-lipped on what she'll be getting from her husband of two years: "I'm not gonna share it with you because that would ruin it."
This won't be the first time Cruise has made an effort to surprise his wife.
For her birthday in December, the actor revealed that he arranged that Holmes be presented with a specially made birthday cake as the curtain fell on her Broadway show, All My Sons.
He said at the Valkyrie premiere: "I set up the whole thing. The cast came out with a huge cake. The audience sang 'Happy Birthday' to her. It was really nice. You know, I plan it out. I think ahead."
He added that he had "a lot of surprises for her throughout the day."
Cruise gushed to the British press that he enjoys "doing romantic things, such as bringing flowers and surprising her with things. I love candlelit evenings with nice music. I feel lucky to have Kate as my wife. She's an extraordinary woman. She is funny and smart and she likes the same things that I do."
Comments
comments