Tony Romo broke up with Jessica Simpson on Thursday, the night before her 29th birthday, a source close to the pop star revealed.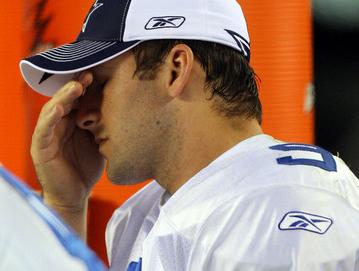 "She is heartbroken," says the source. "She loves Tony. But it's been difficult lately. He's busy with his career and she's getting ready to shoot her show (The Price of Beauty). They decided to part ways."
The Dallas Cowboys quarterback fueled breakup rumors when he showed up with about 14 friends at the Hollywood hotspot MyHouse on Friday night without the birthday girl, a source tells PEOPLE.
"He had quite a few girls stop by his dance floor table," says an onlooker. "Romo was sipping Grey Goose and having a fun time with the boys."
Simpson's rep had no comment. Romo's rep could not be reached for comment.
Simpson had planned to throw a Barbie and Ken-themed party for her birthday, but it fell through, according to a message she wrote on her Twitter page Saturday. "Barbie party didn't happen, but I turned 29 and feel like I am on top of the world yelling I LOVE GETTING OLDER!" she wrote.
On Saturday night, Romo spoke to a group of well-heeled sports memorabilia collectors at the Los Angeles Sports Museum of Los Angeles. He "blushed" when a woman asked about his relationship with Jessica Simpson, according to the L.A. Daily News.
The source close to Simpson is sad that the longtime couple broke up. "They were good together for along time," says the source. "But I guess it wasn't meant to be."
Although Simpson's heart might be broken, she seems to remain hopeful about love. On Sunday, she Tweeted, "Everyone needs to know that hope floats … grab the strings and pull it back to you." Three hours later, she wrote, "Falling asleep with my mom and the dogs. Please lord give all of my beautiful fans, friends, enemies, and family rest. Bring all of us peace."
Comments
comments