Travis Barker was screaming from intense pain after he and DJ AM survived the crash of a private plane Friday night.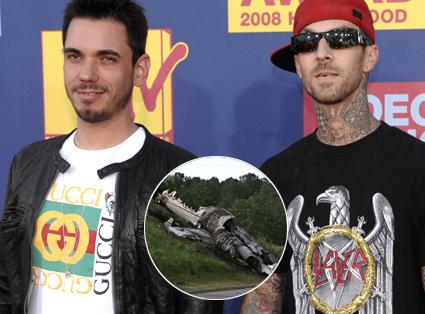 Lt. Jason Shumpert of the South Congaree Police Department revealed on Wednesday: "You could tell he was in pain. He just kept saying, 'That's my friends in the plane, that's my friends in the plane.'"
The pilot and co-pilot died of smoke inhalation and burns while Barker and AM's pals Chris Baker and Charles Still died of impact-related injuries.
Lt. Shumpert also described the scene after the fiery plane hit an embankment upon takeoff in Columbia, South Carolina. He said Barker was screaming from second- and third-degree burns.
He recalled: "They said the plane went down. They didn't say how or if they knew. Once it went down, they were able to slide down the wing of the plane, and they jumped on each other to put fires on each other out and rolled around on the ground."
Officials with the National Transportation Safety Board have not determined the cause of the crash but the Learjet's black box indicated the crew knew one of the plane's tires had blown. The Learjet shot off the end of the runway, ripped through a fence and crossed a highway before coming to rest, engulfed in flames.
A spokesman for a clothing company Barker owns said Tuesday the drummer had been through several surgeries and was trying to keep an upbeat attitude.
Regardless of what caused the crash, Lt. Shumpert said both men are lucky to be alive. The police officer added: "It was divine intervention that they got out. They should be commended for being able to get out and keep their heads together."
Comments
comments