Jonas Brothers have started promoting their new album 'Lines, Vines and Trying Times' on TV.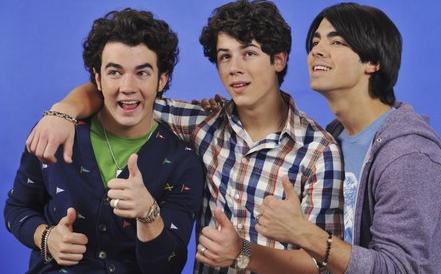 A TV advertisement aimed to promote Jonas Brothers' new album "Lines, Vines and Trying Times" has been outed. It shows scenes from their "Paranoid" music video with a narrator's voice being featured on the background and telling about what fans can expect from the new effort.
"Lines, Vines and Trying Times" is set for worldwide release on June 16. In addition to listing "Paranoid", it will include "Fly With Me", a song heard at the title credit of movie "Night at the Museum 2: Battle of the Smithsonian". Also, it will have rapper Common as a featured guest.
Both "Paranoid" and "Fly With Me" have been released to radios across United States. While a music video for the former song has been premiered, a video for the latter is still in the middle of shooting. Most recently, a footage from its shooting location has arrived.
Meanwhile, In the upcoming episode "That Ding You Do," Joe joins the school's orchestra to impress his crush and being the good brothers that they are, Kevin and Nick have to help him develop a classical piece to prove he is a serious musician. Meanwhile, Stella (Chelsea Staub) bets Macy (Nicole Anderson) that she can avoid texting longer than Macy can go without talking about JONAS.
"That Ding You Do" premieres Sunday, June 28 @ 8:30PM ET/PT on Disney Channel.
Comments
comments