Usher's latest confession is how he manages to remain fit and active: Milk!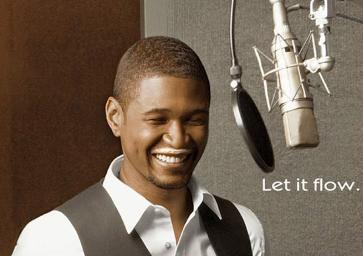 The 30-year-old entertainer just released his new Got Milk? ad and the copy reads: "Let it flow. I pour my heart into my music. How do I stay in tune? With milk. The protein and nutrients in lowfat milk help me build muscle and stay fit. So eat right, exercise and grab a glass of ice-cold milk. Now that's chill."
To be an icon in Hollywood, Usher revealed: "You've got to do things like win Oscars and Grammys, but you're nothing if you don't have a milk ad!"
The R&B star, 30, also said his shoot for the Body By Milk campaign was "a lot of fun," adding with a grin that his ad "makes me look taller." The shoot was held in Las Vegas and coincided with recording for his new album where he says, "I would throw on a suit to go to the studio, to get in the mood."
Due in October, the as-yet-unnamed album – the working title Monster was leaked, he says – will be "romantic at times," and grittier at other times.
"It's racy, risky and edgy and sometimes about personal experiences," says Usher, whose private life of late has been shaken by a divorce filing. "I look at music like a diary."
In between recording, Usher dotes on his babies: Usher Raymond V, 18 months, and Naviyd, 6 months, whom the singer calls "cherubs," though his older son "is a little destructive. He broke an assistant's phone yesterday," Usher says with a laugh. "He was playing with it and he dropped it. Kids don't understand how valuable cell phones are. You lose your phone, it's like you lost everything!"
Comments
comments