Vanessa Hudgens, who was cuddling a teddy bear, flew to Washington DC on December 08.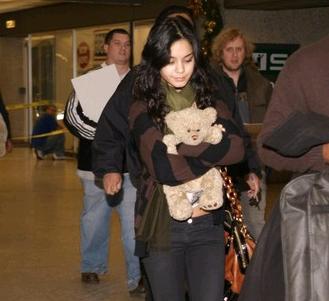 The 18-year-old star is on a roll. HSM 3 is reportedly being made for the silver screen so she will be a Hollywood star soon. She is in the process of getting her driving license and has been looking around for a new pad in Hollywood Hills. One of the homes that she saw was a whopping $1.6million, a lot of money for a teenager.
The "High School Musical" star, which is slowly becoming a style icon, arrived in Washington. She was sporting trendy skinny hipster jeans with knee high tan leather boots, white camisole, hip length front open cardigan and moss green cashmere scarf snugly wrapped around her neck. She matched her outfit with a Louis Vuitton purse.
As for other news, Vanessa Hudgens was spotted at the National Building Museum in Washington D.C. during her run-through for TNT's annual benefit show, "Christmas in Washington".
She sang a two-song set. A fan, which got an encounter with the 18-year-old star, revealed, "I met her! First time ever! She talked on her cell phone for a little bit. She didn't have an actual duet with Ne-Yo, although Colbie Caillat and Ne-Yo did sing a song together. All four performers than sang a song in unison with the huge children's choir. Her voice was so beautiful… She was so nice and sweet. She was great with the little kids and was joking around on stage after she performed."
Comments
comments