Vanessa Hudgens was "freaking out" before her performance at this year's Oscars — because she didn't want to embarrass herself in front of Brad Pitt and Angelina Jolie!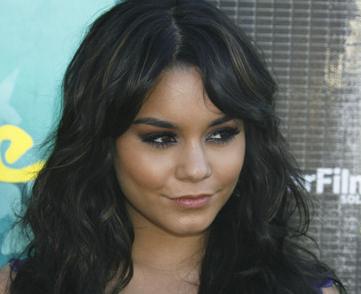 The actress teamed up with her High School Musical costar and boyfriend Zac Efron to sing Last Chance from the movie's soundtrack.
And Hudgens admits she was terrified that her high heels would cause her to trip over while onstage.
"I was freaking out backstage at the Oscars because I was wearing high heels and didn't want to trip down the stairs in front of Brad and Angelina, [email protected] in a leotard and top hat," she told the UK's Company magazine.
"But it was amazing to perform for the ceremony."
Meanwhile, FOX edited it out, but that doesn't mean all the stars and celebs at the Teen Choice Awards didn't hear Dane Cook's joke about Vanessa Hudgens. Nor does it mean that we can't enjoy the clip via YouTube.
The comedian gave the young starlet some advice in response to the topless photos of her circulating on the web saying: "Girl, you gots to keep your clothes on! Phones are for phone calls, girl."
It wasn't the first time the starlet had faced scrutiny for some racy photos.
In 2007, similar shots of Hudgens appeared, forcing her to publicly admit that she was "embarrassed over the situation."
Despite her past experience, the star of the upcoming film "Bandslam" looked shocked and awkward, staring blank-faced back at the comedian.
Comments
comments