Vanessa Hudgens was spotted keeping her head down when approached by LA paparazzi when she asked her to comment on her pals' recent surgical confession.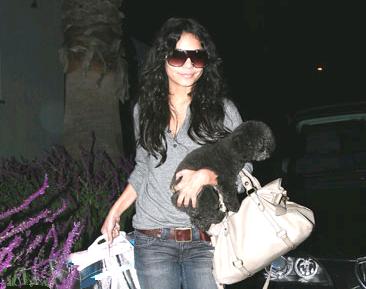 According to a report, "Vanessa refused to comment on best friend and co-star Ashley Tisdale's recent plastic surgery. But she still managed to unlock her lips long enough to shoot us a smile!"
One other note from the exchange, Vanessa is behind the wheel. Instead of riding the 18-year old beauty slid behind the wheel. She had earlier said that she wanted a driver's license for Christmas and reports are that she now has a learner's permit.
As for other news, there is a lawsuit filed against Vanessa Hudgens over $150,000 in legal bills has been given the go-ahead by a Judge.
Her entertainment lawyer, Brian L. Schall, sued the "High School Musical" star for a breach of contract, claiming that Hudgens still owes him over $150,000 in legal fees.
The documents indicated, "Perhaps Vanessa Hudgens, the star of Disney's High School Musical and its sequel, needs to go back to school to learn a very basic lesson in contractual obligations. If you ask a lawyer to work for you, sign a contract engaging that lawyer to work for you, promise to pay that lawyer for his legal services to be rendered to you, and then receive the benefits of those legal services, you are — no matter how talented and successful you are — supposed to pay the lawyer for his work. Unfortunately, Hudgens must have skipped that class and has refused to pay her entertainment lawyer, Brian L. Schall, over $150,000 in fees owed for contracts that have earned Hudgens over $5 million."
Comments
comments