Vanessa Hudgens must be getting comfortable again after her nude photo scandal. The adorable co-star of Zac Efron was snapped in various poses earlier this year including some lingerie photos and one very famous full frontal shot that made her the most typed term into search engines worldwide. It is still uncertain if she learned anything from the scandal.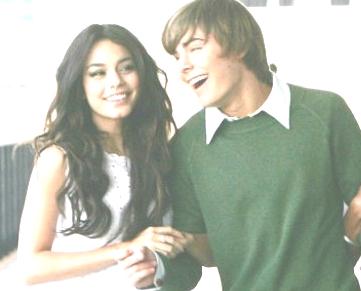 But Zanessa are still together despite various reports they have split and on Wednesday night they made their way to a lingerie show. A report claims that High School tandem Zac Efron and Vanessa Hudgens make a rare public appearance together at the Frederick's of Hollywood Spring 2008 Collection debut at the Palladium on Wednesday in Los Angeles.
A booth full of guests at the show was asked to clear out when Zanessa arrived. The pair enjoyed the parade of runway models displaying corsets designed by celebrities.
Vanessa Hudgens clammed up when she was asked to discuss her favorite looks of the evening. The gesture inspired Zac Efron to reveal, "I'm not really an underwear kind of guy, but she is."
Comments
comments