Vanessa Hudgens has been involved with nude scandal that caused her to basically hiding for weeks as her photographs leaked out one by one after her initial in the buff shots rocked the Internet. But now the young star is slowly getting back out and into the public eye.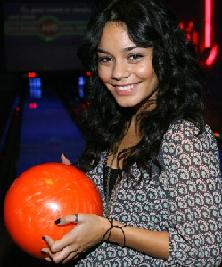 The "High School Musical" star was spotted extending a helping hand in Best Buddies International and Lucky Strike Lanes charity fundraiser at Lucky Strike Lanes on Monday night in Hollywood, California.
Best Buddies is dedicated to enhancing the lives of people with intellectual disabilities by providing opportunities for one-to-one friendships.
The 18-year-old star, who was accompanied by her little sister Stella, struck up a friendship with one lucky winner. She put her game face on, and she hit the bowling lanes and it was all for a good cause.
Comments
comments