Vanessa Hudgens, Zac Efron and Ashley Tisdale, the "High School Musical" stars, have attended the special premiere at El Capitan Theater Hollywood, CA.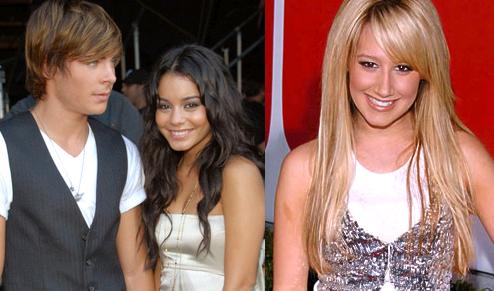 A special premiere was held to mark Disney's High School Musical 2's release onto DVD in the States on November 19. Vanessa Hudgens and Zac Efron walked the red carpet as an item.
Vanessa Hudgens, who was casually attired in skinny blue jeans, a dark grey tunic and a black leather jacket, remarked, "It's just amazing to have these people show up – all the fans!" She matched her outfit with her long curly hair.
Zac Efron, who was sporting mixed casuals with formals wearing blue jeans, an undercoat, shirt and tie and a jacket with fur collars, added, "It's crazy. I can't believe it!"
However, both ducked any prolonged interaction with the press.
On the other hand, Ashley Tisdale turned up formally attired in a mauve silk georgette short dress with gathered shoulders, a deep slit v neckline, puffed cap sleeves and ankle strap high heels. She also revealed, "It's crazy, obviously my life has gotten busier but I've had a lot more opportunities."
Others who attended included Kaycee Stroh, Kristy Frank, Sabrina Bryan, Olesya Rulin and Corbin Bleu. The proceeds from the event will go to the Children's Hospital Los Angeles.
As for the other news, Vanessa Hudgens confirmed her involvement in the HSM3, saying, "Only a few people have actually signed the contracts … We're all definitely on board. I haven't read the script, but I know it's our senior year – probably graduation and prom."