Vanessa Hudgens and Zac Efron made a delightful couple at the Tokyo premiere of High School Musical 3 on Wednesday, January 28.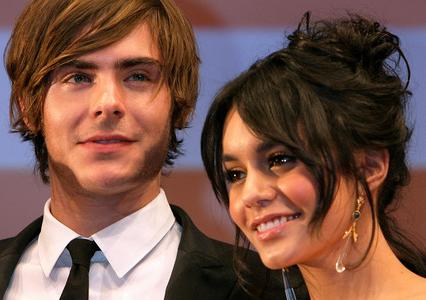 Vanessa, 20, looked stunning in a tea rose mini dress covered with flowers. The color and style of the dress were flattering on her, bringing out the softness in her face. She accessorized with matching Jimmy Choo peep toe heels with jeweled buckles and Sara Weinstock jewels – teardrop earrings, a chunky ring on her left hand index finger.
Her dark long hair was styled in a messy updo with her bangs framing her face. She wore thick black eyeliner and heavy black mascara with pink lip gloss.
Zac Efron, 21, looked dapper with his dreamy looks in blue suit, white dress shirt, black tie and a gold bracelet in his left arm.
Also in Tokyo, Angelina Jolie and Brad Pitt will walk the red carpet on Thursday, January 29 for the premiere of The Curious Case of Benjamin Button and again on Friday for the premiere of Changeling.
Comments
comments