Victoria Beckham, who recently warned Paris Hilton, will cameo in the upcoming second season of Ugly Betty, the show's executive producer has confirmed.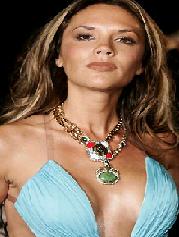 The 33-year-old singer, who had moved to Los Angeles earlier this month, will star in a wedding-themed episode of the hit Abc comedy.
Marco Pennette, the producer, showed enthusiasm while saying; "There's a wedding dress involved. There's a wedding involved with her storyline".
The producer joked, "But we want her husband (David) on set. It's one of the requirements".
Ugly Betty star Becki Newton, who plays binge-eating receptionist Amanda, hopes her character clashes with Beckham.
She revealed, "Amanda is going to be like, 'I'm not standing next to Posh because she's too skinny. She's gonna make me look fat.' Amanda's gonna take her down".