Brad Pitt and Angelina Jolie must really feel at home at the Waldorf Towers. It is because the celebrity couple is reportedly spend nearly 100,000 dollars a month so that they could rent a super-deluxe apartment at the Waldorf Astoria's residence on East 50th Street.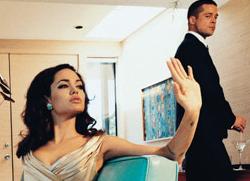 The celebrity couple have been living at the newly renovated, roughly 6,000-square-foot apartment for the past few days.
One broker revealed, "It's actually grander than the [Towers'] Presidential Suite."
There's also plenty of room for the kids to run around, with five bedrooms plus a library that they have converted into a sixth, up to six baths and a huge gourmet kitchen.
Another source added, "Everything you ever need is provided, including a tailor. All you literally need to bring is your toothbrush. And they'll even provide one of those if you forget yours."