"Why Kris Married So Young," is the title of an item from ITW.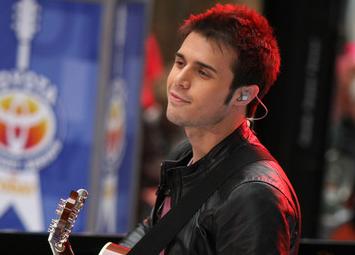 And the television report notes that that even though judge Simon Cowell told Kris Allen that he should have kept quiet about his wife, Katy, if he wanted to be the next American Idol, Kris celebrated his win by embracing her onstage in a moment that felt "a little bit" like renewing the vows they took nine months ago, he tells In Touch in an interview published in the magazine.
"We were thinking, 'Now we can be married.'" But why did Kris, 23, wed so soon? "We're high school sweethearts," he says, crediting her with keeping him from quitting. "She's a no-nonsense kind of girl," an insider, who compares Katy to Reese Witherspoon in looks and type A personality, tells In Touch.
"I'm not sure if the marriage will work because they're both so young, but she's looking forward to being a musician's wife." – even with female fans. "She know she has nothing to worry about," says Kris.
"We definitely want to have kids, but this is not the right time to be having the," Kris tells In Touch. The insider adds that Katy, 22, doesn't want to leave Conway, Ark., permanently.
Comments
comments