Brad Pitt was reportedly wild during his college days, a report claims. Will his wild past stun his partner Angelina Jolie or will that give them more in common?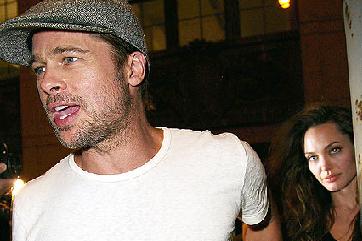 Brad Pitt was once photographed full frontal clowning around with former girlfriend Gwyneth Paltrow and that sparked a wild court battle with Playgirl magazine.
Brad Pitt doesn't do full-frontal in his movies, but when he was a college student at the University of Missouri, he was well-known as a member of his fraternity's famous Dancing Bares.
Thomas Whelihan, Sigma Chi brother of Brad Pitt, revealed, "When a girl from on of our sister sororities turned 21, the Bares – there were seven of them – would put her in a chair and come out butt- [email protected] with pillowcases on their heads and do a choreographed dance for her. The girls would be laughing so hard. It was great!"
Harry Lunt, another frat brother of the actor, added, Once, during Spring Fling, "Brad tanned the letters of the sorority house we were grouped with on his butt," says. "He mooned the whole crowd. Everyone thought it was hysterical."
Angela Wells Woods, who dated Brad during his senior year, remembers that he "was really outgoing and popular, a really fun-loving person."
Comments
comments