Sarah Palin is reportedly being lined up by US television executives to appear in a new Oprah-style show.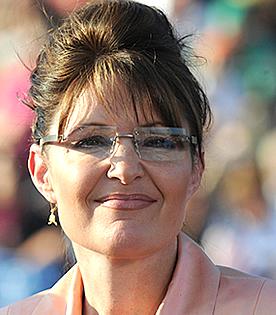 One of the US Vice Presidential candidate's many 'talents' include her pitt-bull attitude to politics but should the Republicans lose the race to the White House, Sarah Palin could be coming to a small screen near you.
Network executives are sharpening their pitches to try and persuade her to capitalize on her newfound celebrity.
Her self-mocking appearance on America's top rated "Saturday Night Live" last weekend with lookalike star Tina Fey and actor Alec Baldwin heightened Sarah Palin fever in Hollywood.
Steve Friedman, who is a veteran morning-show producer, revealed: "Any television person who sees the numbers when she appears on anything would say Sarah Palin would be great. The passion she has on each side, love and hate, makes television people say, "Wow, imagine the viewership."
Yet one television executive disagreed saying:: "I would not put her on the air. I find her a little stiff, and her ability to read the room is not quite fully developed."
According to a report, most industry insiders believe an Oprah Winfrey-style daytime talk show will be the probable route for the 44-year-old, who would have to juggle it with her final two years as Alaska governor.
They think her straight shooting personality would be an immediate hit with the female-skewed audience.
A television boss revealed: "I see her less a variety show host like Ellen De Generes and more of a single-topic host like Tyra Banks."
One producer has even floated the idea – only half-joking – of taking advantage of the curiosity surrounding the entire Sarah Palin clan and their Alaska setting and packaging a reality show called "The Palins" as a mixture of "The Osbournes" and "Northern Exposure."
Comments
comments