Zac Efron, who was recently spotted at the Los Angeles premiere of "High School Musical 3" and meets kids from the Make-a-Wish Foundation and their families on the red carpet, has sparked reports that he is going to be included in the cast of the fourth movie in the Pirates Of The Caribbean franchise.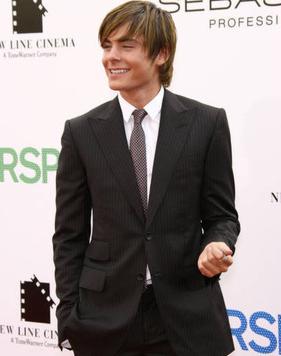 Johnny Depp earlier this month signed up to reprise his role as Captain Jack Sparrow in the film for £32 million, which was the biggest paycheck ever for an actor.
Zac Efron will reportedly receive a $10 million (£5.8m) fee to appear, with Disney bosses keen to sign him up after he revealed that he may be reluctant to take part in any further High School Musical projects.
A source revealed: "Disney knew that Zac was reluctant to do any more High School Musical movies. He had already said there was 'no way' he'd return as Troy. So the Disney came up with an offer he couldn't refuse."
Zac Efron recently hinted that he may be interested in taking over from Daniel Radcliffe in play Equus.
Meanwhile, 'High School Musical 3: Senior Year' held its official premiere at the University of Southern California. Zac Efron was seen on the red carpet with co-stars Vanessa Hudgens, Ashley Tisdale, Corbin Bleu and the rest of the cast of the hugely anticipated, phenomenal musical series sequel.
On his upcoming birthday plans, Zac Efron revealed: "I'm sure I'll have fun, but we're not going to go big. I'm not going to go to Vegas or anything like that — I'm going to lay low."
"HSM 3" is expected to feature more drama, more romance and more catchy musical numbers to viewers when the highly anticipated Disney film hits the big screen on October 24. It's the popular crew's last year of high school, and they find themselves struggling with the reality of being separated from one another once they head to college.
Comments
comments