Zac Efron and Vanessa Hudgens have been voted the Favourite Couple of 2008.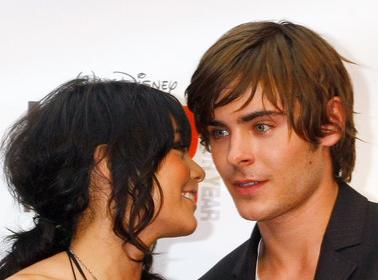 The "High School Musical" pair, who this year reunited for their latest film in the Disney franchise, topped the list of the best pairings of the year compiled by FoxNews site.
A writer for the website explained: "They rode the little-TV-movie-that-could, 'High School Musical,' to box office gold and worldwide fame in 2008. And they have perfect teeth. But their love cannot last post-'High School Musical', as their careers pull them apart, forever.
The writer added: "So appreciate them now, while their love burns with the heat of a million flashbulbs. Congratulations to our Favorite Couple of 2008!"
Zac and Vanessa were closely followed by Brad Pitt and Angelina Jolie, who made it into second place thanks to their continued philanthropic efforts and the addition of twins Knox Leon and Vivienne Marcheline into their family in July.
Halle Berry and Gabriel Aubry were positioned in third place, while the top five was rounded off by Gwen Stefani and husband Gavin Rossdale and Liev Schrieber and Naomi Watts – who welcomed their second son Samuel into the world last weekend.
Other famous pairs to feature on the list were US TV talk show host Ellen DeGeneres and former "Ally McBeal" star Portia de Rossi, who married in August, and Jake Gyllenhaal and Reese Witherspoon – who started dating after meeting on the set of 2007 movie 'Rendition'.
The list also included Carla Bruni and French President Nicolas Sarkozy, Beyonce Knowles and Jay-Z and Justin Timberlake and Jessica Biel – who came in eighth, ninth and tenth place respectively.
FoxNews' Favorite Couples of 2008, full list:
1. Zac Efron and Vanessa Hugdens
2. Brad Pitt and Angelina Jolie
3. Halle Berry and Gabriel Aubry
4. Gwen Stefani and Gavin Rossdale
5. Liev Schreiber and Naomi Watts
6. Ellen DeGeneres and Portia de Rossi
7. Jake Gyllenhaal and Reese Witherspoon
8. Carla Bruni and Nicolas Sarkozy
9. Beyonce Knowles and Jay-Z
10. Justin Timberlake and Jessica Biel
Comments
comments