Hilary Duff headlines Maxim's "Sexiest Stars of 2009" January issue as she set records straight on her lap dance talents, relationship status, and what she has and has not said about her sex life.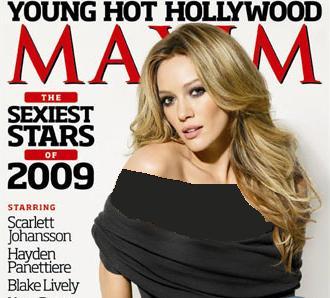 First off, the former tween star revealed that she never claimed to be a virgin, as was written in 2006, saying: "You know what? I was quoted saying I was a virgin, but I absolutely did not say that. That's nobody's business but my own."
But the alleged misquote is hardly the worst the 21-year-old has had written about her as she continued: "I've been accused by the press of giving lap dances at clubs. I mean, little ol' me? It's shocking… And they're so descriptive about these lap dances. I don't even know how to do a lap dance!"
While she may not be well-versed in lap dancing, the singer is no stranger to getting sexy onscreen, as evidenced by her sexy new music video for the single "Reach Out".
She explained: "I was ready to do something different. The intent was not to be overtly sexual; I'm not [email protected] I do have little shorts on in it."
And on her rumored engagement to hockey player Mike Comrie? She protested: "I'm a relationship person. Now it's all over the Internet that I'm getting engaged to my boyfriend. The truth is, I just like to wear rings!"
Comments
comments