In one of his pics for GQ magazine's May 2009 issue, Zac Efron is seen baring his chest while hanging on a parking meter of a street.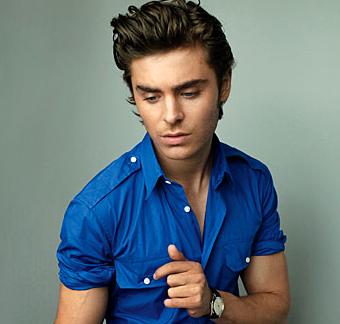 "High School Musical" heartthrob Zac Efron bares his chest and muscular arms for a photo spread to be featured in the May 2009 issue of GQ magazine, which will hit the newsstands on April 21. Adding spice to his numerous pics, he opens up in an interview with the publication about his acting career and his decision to keep his private life out of the public eye.
One of the several pics that Zac does for GQ shows him being photographed topless, hanging on the parking meter of a street as many cars pass by him. He is seen in the pic wearing blue jeans and a pair of black sneakers.
His other pic, meanwhile, sees him posing in blue shirt of Ralph Lauren's Black Label collection. He is seen having the shirt rolled up, exposing his buffed-up arms. He finishes off his look with jeans by A.P.C. and watch by Rolex from Aaron Faber Gallery.
Already reaching the age of consent in U.S. to drink alcohol, Zac tells GQ he does enjoy a few drinks with friends, but only privately and "behind closed doors." He explains further, "I wasn't programmed by Disney. It's common sense. If you're gonna be drunk with your friends, don't get wasted at the Chateau Marmont and hook up with some famous chick. It's not rocket science."