Zac Efron is ready with his black Sharpie as he gets swarmed by paparazzi and fans as he arrives at LAX airport in Los Angeles on Friday afternoon (March 27).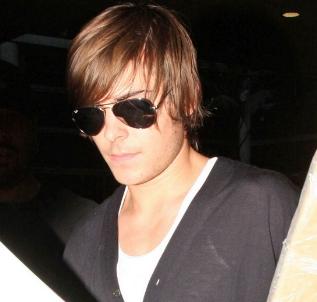 The 21-year-old actor premiered his new flick, 17 Again, in London last night.
Zac Efron has admitted that he was amazed by the number of fans who turned out to see him at last night's UK premiere of 17 Again.
Speaking on GMTV this morning, the actor revealed that he was overwhelmed by the support and dedication of his British fans.
He revealed: "It was crazy. I'm always amazed at the turnout here in London, so it was a blast. I have a very cool fan base at this point. Not everyone can say that at their premiere in London all these people show up and show their support – I don't know how I got so lucky."
When asked if he would like to return to being 17 like his character does, he replied: "I think things are pretty good for me right now. I don't know if I'd go back. Probably one of the bigger messages of the story is don't live in regret at the past, enjoy the present, live your life to the fullest, and I think I'm doing that."
Zac will be presenting tomorrow at the 2009 Kids' Choice Awards. Other presenters include: Hugh Jackman, Reese Witherspoon, Robert Pattinson, Miranda Cosgrove, Keke Palmer and Nat Wolff.
Comments
comments