Want the inside scoop on the hunky High School Musical hottie? You got it! Zac waxes lyrical about college, shaving his head and the secret scenes filmed exclusively for the HSM3 DVD.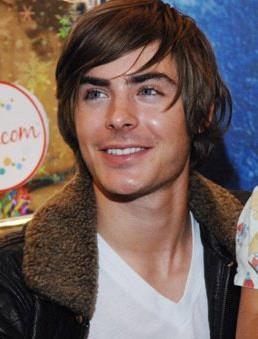 Here are the highlights of his interview:
You've got the world at your feet, Zac! Have you got any advice for people who want to follow in your footsteps?
Zac Efron: The one thing I would say to anyone who is considering acting is do it because you love doing it. Don't do anything just to be famous. It would really suck if you had the fame without the love for what you do.
Do you still enjoy acting?
Zac Efron: Are you kidding me? Of course I do! I wouldn't change anything for the world, although the fame part of this industry is tough to handle at times. I can tell you that fame is probably the most unadorable thing about acting. High School Musical is what got me here today and I'm very grateful – but the fame part isn't so fun.
Is it difficult to relax when you're photographed wherever you go?
Zac Efron: To be honest, I can't handle the paparazzi. They're everywhere. One of them was in a dumpster trying to take my photo the other day. It was crazy! Another time, one was hanging off the back of a pick-up truck driving down a road. They think they're being clever, but they're not.
Would you like to get away from all the paparazzi then?
Zac Efron: Sure, I'd love to take a year off and travel the world under the radar. I would love to do it really low key. I wouldn't need to stay in fancy hotels or anything; I just want to explore – but I don't know how I'd do it. Would I shave my head to try and go incognito? Ha ha! I'm not telling.
Is college in your plans for the future?
Zac Efron: I was accepted into film school at USC, which is something I would love to do, although I believe it's something that will always be there for me. Right now, I'm part of something that could be gone tomorrow, so I'm going to see what happens with this career for now. I'm enjoying where I'm at in my life and I feel like I'm learning a lot on a daily basis. I'm learning without having to be behind a desk, so it's a pretty cool place to be.
Do you learn a lot on film sets?
Zac Efron: Sure. I recently filmed an independent movie with the director, Richard Linklater, where I learned loads. It was very exciting and a great change of pace to High School Musical. I had a lot of scenes, but I never had to break into a song and dance, which was very different! It was a very educational experience because I've always admired Richard Linklater's movies. He was very inspirational.
Why do you think HSM is so popular around the world?
Zac Efron: you know what? I think high school is just a backdrop for a lot more important things that's going on in High School Musical. All over the world, kids are kids and growing up can be tough. That's really what we're singing about and that's what the kids are connecting to. I mean, I didn't necessarily like high school, so this is the fairytale within high school that we show.
With HSM behind you, are you scared or excited about the future?
Zac Efron: I'm all of the above! It's scary and exciting, but that's exactly how you feel when you finish high school. You feel ready and you feel prepared, but you don't necessarily know what's going to happen. You're eager to find out!
So what is next for you?
Zac Efron: I've signed up for a movie called Footloose with [HSM director] Kenny Ortega. We're just trying to figure out how to do it at the moment – but it will be great to work on a musical movie again.
Will there ever be another High School Musical?
Zac Efron: Everyone always asks this question! I will always support these movies. We've found something that kids are relating to around the world and that's very special. We didn't have anything like this before – and I think it would be great to continue the tradition for as long as kids continue to respond to it. We'll just have to wait and see what the future holds.
Comments
comments