Zac Efron caught up with MTV in Las Vegas after he received the Breakout Performer of the Year honors last Thursday (April 2).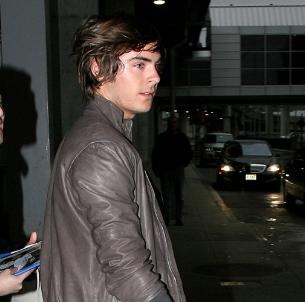 The 21-year-old actor talked about basketball, working with Matthew Perry and keeping girlfriend Vanessa Hudgens in his long-term plans. Check it out:
On working side-by-side with Chandler Bing: "I was already familiar with Friends, so I didn't have to sit and watch all the seasons or anything like that. He's got incredible timing. … We rehearsed a lot together, and Matthew was always available to hang out and work with me on my part [so I could play a younger him]. And we kind of did become friends during filming."
On playing basketball, once again, on film: "It was originally in the script! I'm going to be honest — it was a plus. Like, all right, I can play basketball, and it's a sport I feel you can show off in — which is important for this character and the movie. A pet peeve of mine is when people can't actually do the sport that they are supposed to play on camera, so it's nice to play basketball."
On hoping to work with Vanessa Hudgens again: "Sure, I hope so. It's always great getting to work with your best friend."
Meanwhile, in a bid to keep his life on the right track, Zac Efron says he avoids partying too hard and drinking alcohol too much.
Reaching the U.S. legal drinking age of 21 in October 2008, Zac Efron says he avoids partying too hard because he doesn't want to ruin her career in entertainment industry. "There's a time for celebration and I partake, sure. But, you know, it's important not to let that become too big of a distraction," he explains.
On consuming alcohol, Zac explains, "The more you have access to, the harder it is to remain focused. You know what, I do not want to fall victim to that, it's too easy and too often done." The "High School Musical" actor adds, "It's out of style anyway, I think too many people have done it before me, I'm not going to. It's uncool, yeah. I think the rebellious thing to do would to actually be successful (sic)."
Zac Efron tastes his first international stardom after starring as Troy Bolton in the Disney Channel original movie "High School Musical". He has since starred in some big screen movies, like "Hairspray" and "High School Musical 3: Senior Year." Some of his future big screen flicks include "Me and Orson Welles" and "17 Again."
Comments
comments