After rumors surfaced that Zac Efron and Vanessa Hudgens hit a sex shop, he says his mother overreacted.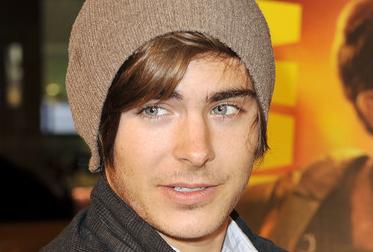 The 21-year-old actor revealed: "My mom is like, 'Zac, what did you buy in a sex shop?' I was like, 'Mom, calm down, it's not a sex shop.'"
He went on: "She wouldn't have any of it. She's like, 'I knew you were being sexual!' But she understood. My stocking was full of condoms this Christmas. She buys me the economy box."
Zac Efron also opens up about Leonardo DiCaprio (he told Us Weekly that the Titanic star was his role model).
The two sat next to each other at a Los Angeles Lakers game last November.
"We talked the whole game, and he was just everything I thought he would be: smart, levelheaded, charming, hilarious," he says. "You know, the older-brother vibe. That sounds so cheesy."
Now that his High School Musical days are over, Efron – who headlines the comedy 17 Again (out April 17) – says he wants to keep making "as many light hearted movies as I can."
He added: "Every time we started a new High School Musical movie, I wanted to keep that kid inside of me alive."
Comments
comments