Zac Efron, who has been known for dating his "High School Musical" co-star Vanessa Hudgens, topped the list of best celebrity boyfriend.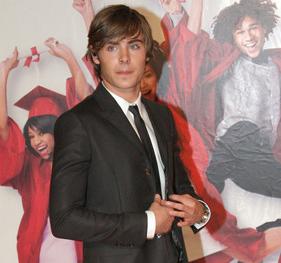 Seventeen compiled a list of the top 10 celebrity boyfriends, and the "High School Musical 3: Senior Year" leading man topped the list. The magazine described the HSM heartthrob: "This boy has talent! Not only is he the king of East High's basketball court, but his singing and dancing has captured our hearts. Plus, he's so sweet to his girlfriend, Vanessa Hudgens, we can't help but be a little jealous."
The 16-year-old Nick Jonas, in the meantime, was listed at number 5. The mag wrote about Nick, "The youngest of the JoBros is always dressed to the nines, which shows that he wants to look good for rumored girlfriend, Selena Gomez!"
Nick's brother Joe Jonas was number 8 on the list, even though he broke up with Taylor Swift. Other male celebrities who also made Seventeen's list of the best celeb boyfriends include Jessica Biel's beau Justin Timberlake, Rihanna's rumored boyfriend Chris Brown and Penn Badgley, who is romantically linked to Blake Lively. Brody Jenner, Michael Cera, Channing Tatum and Hayden Christensen are also the top 10 celebrity boyfriends.
Here is the list of best celebrity boyfriend:
1. Zac Efron
2. Penn Badgley
3. Justin Timberlake
4. Brody Jenner
5. Nick Jonas
6. Chris Brown
7. Michael Cera
8. Joe Jonas
9. Channing Tatum
10. Hayden Christensen
Comments
comments