Zac Efron and Vanessa Hudgens are out. No they didn't come out that way, in an interview with nightly syndicated entertainment television show "Extra" the two High School Musical sweethearts admit they are a couple in the midst of break-up speculations.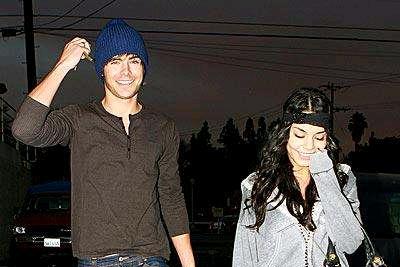 Zac strips off his jacket and gives it to his girlfriend Vanessa and he gets an attaboy from Extra. You could see the interview here. A reported said, "Let's just do this V. Let's just talk about how sweet your boyfriend is to give you his jacket…come on." Vanessa Hudgens laughed, "You said it first."
That was enough for Extra to declare them out and proud as a couple. Zac Efron seems very comfortable in the interview while Vanessa Hudgens seems a bit reluctant, though she does comment on Zac and his co-stars Ensemble Performance Award saying that she is very proud of him and "He earned it!"
Zac then comments on his thoughts on the entire awards show. The reporter even gets Vanessa to chime in on the train wreck that is now Britney Spears. Reports have Britney traveling all over California (all the way out to the Palm Desert) with her personal paparazzi boyfriend. On Thursday night she was dragged away from her California home and hospitalized under observation.
She was released on Saturday and when asked Vanessa gave the proper and cordial answer saying she was pulling for Britney, saying, "Honestly, I just wish her all the best. I hope she gets through everything."
Comments
comments