Vanessa Hudgens got various reports that she might get booted from the big screen version of High School Musical 3 but those claims have been denied countless times. It seems certain that Zac Efron, Vanessa and the whole cast will return for the big budget big screen sure fire hit.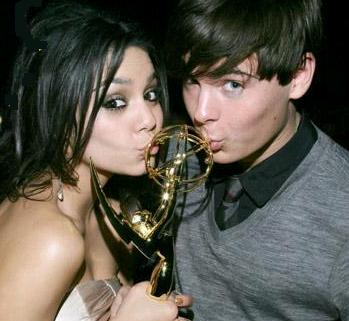 A new report revealed that Zanessa fans can now rejoice since Zac Efron and Vanessa Hudgens will be back playing Troy and Gabriella in HSM3 and "High School Musical" couple will get huge pay raises to show for it.
Although Disney released a statement saying they're "still in negotiations with the HSM cast," Zac was spotted lunching with HSM director Kenny Ortega.
An insider revealed that the casts' deals are in place, saying, "Zac will make $3.2 million for the sequel, while Vanessa will get $1.75 million."
Cashing in on Zanessa and their success is a good thing for them and their fans alike. The report does note that the stars' sequel status had been up in the air after the aforementioned false reports that Vanessa's nude photo scandal cost her the squeaky-clean role and Zac's Hollywood star took off following his scene-stealing turn in Hairspray. Filming is scheduled to begin in February.
Comments
comments