Will Zanessa ever be able to put the photos controversy behind them? It appears that they may only have up to January before they are ready to get back to work. According to a report, Zac Efron and Vanessa Hudgens have agreed to contracts and are set to get back to their real jobs as Troy and Gabriella.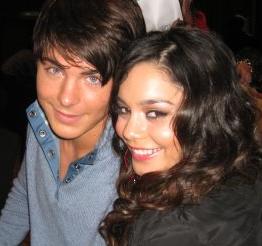 The report indicated that filming of Disney's High School musical 3 is set to start in January.
Ryne Sanborn, who played Jason, revealed, "The script is getting written – it starts in January, and it's a feature film. [But] I haven't gotten a call saying, 'We want you to do it.'"
Olesya Rulin, who played the role of the piano player Kelsi, added, "It if happens, I'll be ecstatic to be in the third one."
According to a report, "After the Vanessa Hudgens nude photo scandal, and the rising profile of series star Zac Efron, Kaycee Stroh, 23, who plays Martha, hopes the cast remains the same. 'Our fingers are crossed because we love each other. The chemistry's great with the 10 of us.'"
The report claims that Zac is being offered $3.25 million dollars to star in HSM3 and Vanessa, a measly $1.3 million dollars. Two of the film's working titles are High School Musical 3: Gradu-Dancin and Haunted High School Musical.
Comments
comments