Stepping out for charity, Zac Efron made a visit to the Children's Hospital in Los Angeles, California on Friday morning (June 12).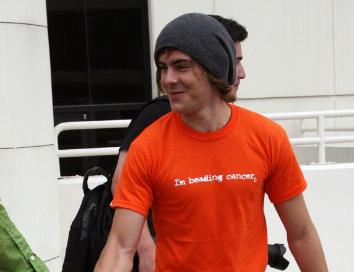 Dressed in an orange t-shirt with the words "I'm beating cancer" written on it, the "High School Musical" hunk spent almost an hour in the hospital before emerging surrounded by a small group of staff who were thanking him for the visit.
The hunk gives a hug to a friend as he leaves Children's Hospital of LA on Friday afternoon (June 12).
The 21-year-old actor wore an orange "I'm Beading Cancer" t-shirt to the visit. Zac seemed to have a great time making jewelry with the patients and their families.
Marnie Rocks Beading Cancer provides beading supplies to patients and their families so that they can have a creative outlet during their brief time at the hospital.
Meanwhile, it was just announced that Zac's hit movie "17 Again" will be making its way to store shelves later this summer – as the DVD and Blu-ray are available on August 11th.
Comments
comments